Okay, all my ladies out there....this is AWESOME. Like...possibly life changing awesome.

Do you have makeup that looks like this?
Or this???


I'm talking the lid completely broken off...fingers dug into the eyeshadow....lipstick with gouges or teeth marks in it...really sad, pathetic makeup that is trashed. But you still love the colors and can't make yourself throw them away? Is it because you are a mom with a certain little tiny someone who LOVES to play in your makeup? Well, I think I found the solution!
Let's play a game, shall we? Let's take a trip to Sesame Street. Remember the song/game "One of these things is not like the others....one of these things just isn't the same...blah blah blah....it's time to play our game."
Can YOU tell which one of these doesn't belong?

You're right. It's the lipgloss. Totally not my color. Just kidding....the answer is:
The brightly colored eye shadow and the blush. It's totally fake! This is an awesome craft I stumbled upon while blog hopping. The blog is by Stephanie at
Playing House
and she has tons of cute ideas for people with preschoolers. Check her out! She did a really awesome giveaway/tutorial for some pretend makeup. I had NO clue it was fake when I saw it! I didn't win the giveaway, (so sad, *sniff sniff*) So I decided to venture out and follow her tutorial to make my own. Annnnnd... off to Dollar Tree I went.
MAKEUP THINGIES $1 each
A GLUE GUN, SCISSORS, AND A KNIFE OF SOME SORT.
Now, put the makeup on a plate or paper towel and score each of the sections of makeup like so....
then dump it out in the trash or sink or wherever. Make sure to get it out of all the corners.
Now you take your foam and press it onto the makeup squares to make an indent...
(See? I told you Stephanie was a genius!) Now you have perfect little lines to show where to cut the foam. So, cut out all the colors you want to fill up the sections and hot glue them in! That's it! How cute is that!?!
All done!
Let's just say it was a HUGE hit! (See the little one in the background? She is the guilty little toddler who mutilated my makeup. Little stinker. She's lucky she's so cute.)
Let's give a big shout out to Stephanie for her awesome tutorial! Thanks for sharing!
Now, go save the life of your makeup and pull some pranks on your mischievous toddlers. BAHAHAHAHAH. (No really.)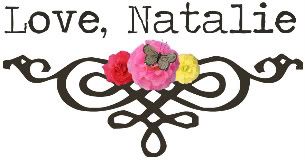 Submitted to:
Skip to my Lou
Hodgepodge Friday
DIY By Design