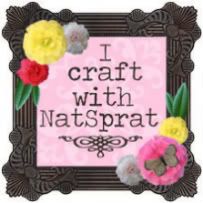 Oh my heck. I am having the WORST time with HTML code today! I'm trying to get the background on my "I Craft With Natsprat" button to be transparent, but it will only show up as white. Which is great for blogs that have a white background, but NOT so great for people who's blog backgrounds are other colors.
Here is what's going on.
See below...in Photoshop the background is the gray checkered, which is supposed to mean that it's transparent. I save it as a PNG which is supposed to keep the background as transparent.
Then I upload it to Photobucket and save the image. But I think when I save it is when the background changes to white. By background, I mean, the part of the rectangle in the Photoshop image that is the checkered part.
So, then I paste the HTML code for the picture into the HTML code for a blog button...and this is what shows up.
See how the background is white??? It's driving me crazy!
I've tried every tutorial I can find...AAAAAAAAH!
So, do you or anyone you know do blog design type things who might be able to help me out? I mean, I'll TOTALLY pay you and everything...
I'd REALLY love to get this fixed!
THANKS!