Well....I have a bit of news. I am no longer a homeschooler. This is kind of bittersweet for me. This year I tried to homeschool Aaron and Whitney...and if you remember my
post
on
The "H" Word
, I was pretty nervous about homeschooling 2 kids at the same time. Well, my fears were confirmed. I just couldn't do it! It was SO hard to try and bounce between the 2 kids and making sure they weren't falling behind. We weren't getting done with school until about 5:00 in the evening! It was awful. :( I turned into this totally stressed out monster and felt like all I did was nag, "Finish your math! Come on! We've been working on this for 2 hours!!!" And I just think Aaron couldn't handle me being his mom and his teacher at the same time. It was so frustrating! He is an interesting boy. His mind works like nobody I've ever seen.
Here was our conversation:
Me:
"Aaron, today we're going to learn about an awesome color! Can you tell me what color your shirt is today?"
Aaron:
"Um......it's red!"
Me:
"Good! Now...can you tell me what color Lightning McQueen is?"
Aaron:
"He's red!"
Me:
"Good! Now, what color are our dining room walls?"
Aaron:
"They're red!"
Me:
"Great job! So, can you guess what color we're going to talk about today?"
Aaron:
"Um....
.

BLUE!
"
I swear...I didn't know whether to laugh or cry.
My husband had taken off two weeks, and his second week off was our first week of school. It was kind of embarrassing to have him home to witness the chaos. Me trying to help Whitney with her math AND help Aaron with his writing with Kate crying at my feet, "Mommy! Mommy! Hold you? Hold you? WAAAAAAAAH!!!" I wasn't dressed...I hadn't done my hair or makeup in three days, the house was a WRECK, dinner was never made on time, and I was in tears at least twice a day.
So, he came and sat with me and said the magic words.
"Honey, I think we should look into putting the kids into public school. "
I was relieved and heartbroken at the same time. I know it's what was best for the kids, and I knew they'd LOVE school and everything would be okay. But...I was heartbroken that I couldn't handle it. It's embarrassing to admit....I failed. So many other parents homeschool like eight kids all at once! And I couldn't even handle two! Sigh.
So, the next day I took the kids to the school and enrolled them. I got to have a tour of the school and meet the teachers *who are just SO cute!* and I felt much better.
I couldn't sleep that night. I was so nervous. What if I slept in and they missed the bus? What if they won't wake up? What if I forget to put their lunches in their backpack? What if they start crying? What if I start crying? What will I do all day? Will they be okay???
The next morning we all said family prayer together, I took them both to school, walked them to their classrooms, gave them big hugs, told them I loved them and went back home. I didn't cry like I thought I would...I was more excited for them than anything. I knew they were in good hands and that they would make friends and have a blast! But, I couldn't wait for them to come home! I couldn't wait to see them get off of the big yellow bus and come running to me! And...they did. :)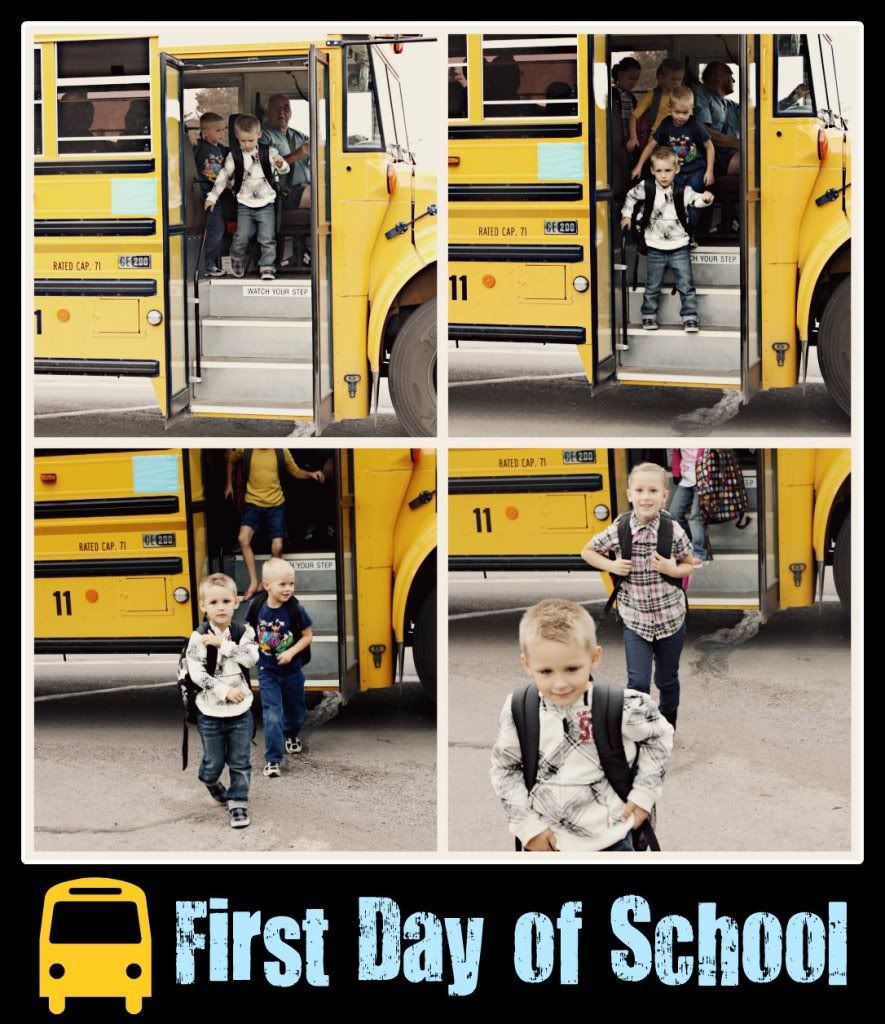 I have to admit...I am LOVING the peace and quiet days I have now. I am LOVING going to the grocery store with only one kid to worry about. I am LOVING taking naps with Kate during her nap time. I am LOVING having a clean house. I am LOVING baking things so they can have after school snacks. I am LOVING having dinner ready on time. And I am LOVING hearing their stories of their adventures at school when they come home! They seem so happy and excited! And...I think everything is going to be okay.