Today is my WONDERFUL Mother's Birthday! (Hiiiii Mom!) I got the awesome job of making her birthday cake. I wanted to make her something special. I know she loves Georgia Mud Fudge Blizzards from Dairy Queen...so I decided to make her a Georgia Mud Fudge ice cream cake! Wanna know how I did it? :)
You will need:
1 1/2 tubs of chocolate ice cream
1 cup chopped pecans
1 box brownie mix
1 tub of Cool Whip
1/4 cup of milk
1 small box of chocolate pudding
1 bottle of Magic Shell ice cream topping (you know, that stuff that hardens in just few seconds after you pour it onto your ice cream?)
1 round spring form pan
a large star frosting tip and frosting bag
First step, make your brownie mix. Pour it into the greased spring form pan about 1/4 of the way to make a "crust" for the ice cream cake. Pour the rest into a square baking dish so it's about 1/2 inches thick. Bake them for 20-25 minutes until it's set and a toothpick comes out clean when inserted into the brownie.
Meanwhile, while the brownies are cooling, take out your ice cream and leave it on your counter to let it soften to the point where you can plop it out and stir it. (Just NOT to the point where it's a melted liquid mess!)
Cut the extra brownies you made into little squares and put them into the freezer for a while to harden.
After the ice cream is softened, plop it into a large bowl and stir it up so it's about the consistency of a Wendy's Frosty. (Mmmmm.) add your chopped pecans. Get out your brownie chunks and throw them in. Then, take your Magic Shell topping and give the ice cream a good dose of it! Stir it up until things are mixed evenly.
Dump that into the spring form pan on top of the brownie crust and smooth out the top as much as you can. (I took a piece of wax paper and smoothed the top with it) Put it back into the freezer for about 3 hours until it's hardened again.
While it's hardening you can go ahead and mix up the "frosting". Mix your Cool Whip and the chocolate pudding mix and 1/4 cup of milk together. Get it nice and smooth and creamy and put it into the fridge until the cake is ready to take out of the freezer.
When your cake is set, take it out of the freezer and carefully run a warm knife along the edge of the inside of the pan to loosen the ice cream and brownie from the side. Take the spring form part of the pan off and smooth out the sides with the knife. You're almost done!
Next, put your "frosting" into your frosting bag with the large star tip and pipe it onto the top and bottom edge of the cake. (See the picture!)
BEAUUUTIFUL! Now, get your Magic Shell topping and drizzle it all over the cake however you want! It's so fun to watch the stuff harden...
Now, YOU'RE DONE!!! Carefully put it back into the freezer until it's time to eat it! :) To cut it, use a knife warmed in some hot water.
See, super easy and SUPER delicious!
Now...I wish the birthday party would start so we can break into the cake! The picture is killing me! hahahah!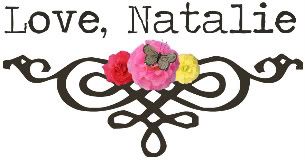 Linked up to:
Tatertots and Jello
Lolly Jane
The Girl Creative
Nifty Thrifty Things
Pinkopotamus
Blue Cricket Design
Fingerprints On The Fridge